Welcome to Terry's Shop!
No, I do not operate a commercial shop, but instead have my own machine shop equipment for my own projects as a hobby.
Sand Creek Engine and Machine is the name I have for my shop, based on my interests in the casting and machining of miniature steam engines. My 'shop' is located in my garage, but I am in the process of fixing up space in the basement to be my future shop. Between work and other projects, getting my shop created is taking far more time than I had planned, but that is the way life is sometimes. Hobbies, such as my shop, have to take a back seat to other projects that have higher priority... like making a living!
It was very cold out in the garage over winter, so not much happened out there during that time. Spring has sprung here, and a few things are underway.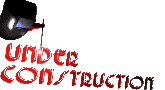 This section and the pages below are works in progress and updates will be posted from time to time. Stay tuned!!
These pages were last updated on Sunday, March 27, 2016