Shooting Competitions and Special Events
Last update of this page was on Sunday, November 13, 2016
.
---
2017 Minnesota 4H State Shoot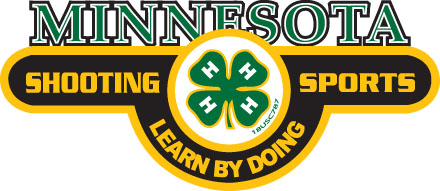 The 2017 State Shoot will be held at the Martin County Fairgrounds on September 8th, 9th, and 10th, 2017.
We do not travel to the State Shoot as a group, nor do we provide or arrange meals, lodging, transportation, or ammunition for this event. It is necessary for parents to arrange for those items for their children. Some parents work together and allow their children to ride and stay with other parents, but these arrangements are the sole responsibility of the parents. Club rifles, pistols, shotguns, and archery equipment can be checked out and utilized by our members for this event. Equipment that is checked out must be transported to and from the State Shoot by the participant that has checked it out. Ask any instructor for details.
There are specific requirements in order for a youth to compete at the State Shoot:

| | | | | |
| --- | --- | --- | --- | --- |
| Event | Third Grade | Junior | Intermediate | Senior |
| Wildlife Calling | x | x | x | x |
| Wildlife Skillathon | x | x | x | x |
| Archery A (Recurve, no sights) | | x | x | x |
| Archery B (Recurve, with sights) | | x | x | x |
| Archery C (Compound bows) | | | x | x |
| BB gun | x | x | x | |
| Standard Air Rifle | | x | x | x |
| Three Position Air Rifle | | x | x | x |
| Air Pistol | | x | x | x |
| Air Rifle Silhouette Shoot | | x | x | x |
| .22 Field Grade Rifle (Open sights) | | | x | x |
| .22 Target Grade Rifle (Peep sights) | | | x | x |
| .22 Pistol Fun Shoot | | | x | x |
| Muzzleloading | | | x | x |
| Intermediate Trap (50 targets) | | | x | |
| Senior Trap (100 targets) | | | | x |
We highly encourage all of our youth to attend the State Shoot each year. It is a three day event that begins on Friday evening, though most of the competition takes place on Saturday. It is not necessary to arrive on Friday, but it can be helpful, so that you are on site and ready to go on Saturday morning. The typical State Shoot schedule is as follows:
Friday afternoon and evening: Registration is open. Initial registration is handled by one of our county coaches. Youth that are competing need only see their coaches for registration purposes. In some years trap has been allowed to start shooting on Friday afternoon, depending on availability of an adequate trap range in order to handle all of the shooters. Shooters MUST check in with their county coaches before shooting so that necessary wristbands and schedules can be picked up. Shooters are not allowed on any ranges without wristbands!
Saturday morning and afternoon: Registration with your county leaders and all shooting competitions. Most range times are scheduled except for Trap, Black Powder, and Wildlife Skilathon, so it is important to arrive by 7:00 AM on Saturday morning at the very latest, so that you can obtain your schedules, familiarize yourself with the grounds, and get to your first range on time. The first competitors will need to be on the range by 7:30 AM. Make up shoots are available on a limited basis and are entirely at the discretion of the range officials, so please don't count on utilizing them unless absolutely necessary. In most cases, a missed range time results in a zero score for that event.
Saturday evening: Youth Activities.
Sunday morning: Continued competitions, make up rounds, and Fun Shoots.
Sunday afternoon: Awards Presentation.
Depart Sunday, mid-afternoon (Awards presentation completes at about 2 PM).


The kids have a great time at this event and get the opportunity to meet other kids from all over the state. We've seen kids who initially were apprehensive about attending have a complete change of heart once they have been there. Regardless of how they place in the competition, they are always eager to attend the following year. Additionally, those seniors that attend the State Shoot are potentially eligible to attend the 4-H National Invitational Shooting Competition the following June.
To visit the 4-H State Shoot website and obtain camping reservation forms, State Shoot registration forms, State Shoot Rules, directions, and other information, Click Here
---